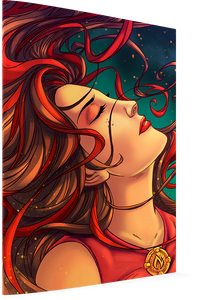 Last Ember Press
The Last Ember #1: Reforged Cover D METALLIC, Rudi Sucipto, Lisa Moore
Regular price
$25.00
$0.00
Unit price
per
Our Flagship Title!
The Last Ember is the first book of LEP's "Emberverse!"


Ember Madison is the last of the fire goddesses incarnate, but she has no idea! 
One day, that fire deep inside came swirling to the surface and her world was changed forever. Now, one in the shadows watches her every move, while another hunts and preys on those like her slowly making his way to her.
She is... The Last Ember!
This is a definitive, special edition of The Last Ember #0-1 that properly introduces anyone unfamiliar with the series to Ember and her story. We decided to put together this book to showcase the beginnings and journey of Ember so far. What you'll get with this book is:
Extra-Sized Issue!
A 60-Page, remastered version of

 

The Last Ember

 

#0 and #1!
Loads of extra content like sketch gallery, cover gallery, prose and more!
The definitive version of Ember's origin!

The galleries and process images in this special edition tell the graphic history of Ember's beginnings from concept to completion with annotations, interviews, articles and more!
We Care About Our Products
And we know you do too! That's why we make sure they are as safe as possible, bagged and boarded, and inserted inside Gemini Comic Supply Comic Flash Mailers to protect your investment!
The Creators Behind The Last Ember
Created by: Brant Fowler
Plot by: Brant Fowler & John Wilson
Script & Letters: Brant Fowler
Pencils: Rudi Sucipto (Chapter 0) and Giulia Lalli (Chapter 1)
Inks & Colors: Lisa Moore
Covers by: Rudi Sucipto & Lisa Moore (A), Yasmin Montanez Flores (B) and Federico Sabbatini and Andrea Celestini (C)
The Creators Behind The Last Ember
Created by: Brant Fowler
Plot by: Brant Fowler & John Wilson
Script & Letters: Brant Fowler
Pencils: Rudi Sucipto (Chapter 0) and Giulia Lalli (Chapter 1)
Inks & Colors: Lisa Moore
Covers by: Rudi Sucipto & Lisa Moore (A), Yasmin Montanez Flores (B) and Federico Sabbatini and Andrea Celestini (C)
---