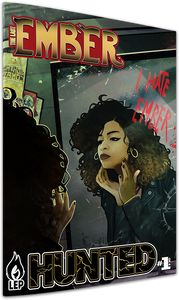 Last Ember Press
The Last Ember: Hunted #1 Cover C "I Hate Ember" Variant, Francesco Tomaselli
Regular price
$20.00
$0.00
Unit price
per
Our Flagship Title!

20 pages of story by Sabbatini (Marvel Comics) and Celestini with lettering by Rob Leigh (DC Comics).

The start of a BRAND NEW ARC* with First Appearances of several characters!
In "Hunted," Ember tries to rise above recent troubles and get back to some semblance of normalcy, but Tiana, her new nemesis, isn't quite done with Ember just yet. She and her minions set out to make life a living Hell for Ember.
Elsewhere, the hooded figure meets with Quincy, a new player on the board as they make some startling discoveries and run into some trouble of their own!
"Hunted" #1 is the first chapter in a bold new direction for The Last Ember, and is a great jumping on point!
*Takes place after the events of The Last Ember: Reforged.
The Creators Behind The Last Ember
Writer: Brant Fowler
Artist: Federico Sabbatini
Colorist: Andrea Celestini
Letterer: Rob Leigh
Editor: Nicole D'Andria
We Care About Our Products
And we know you do too! That's why we make sure they are as safe as possible, bagged and boarded, and inserted inside Gemini Comic Supply Comic Flash Mailers to protect your investment! The Creators Behind The Last Ember
---